Epson debuts and installs Australia's first new SurePress L-6534VW digital label press
Epson has taken delivery of and installed Australia's first high productivity SurePress® L-6534VW industrial UV digital label press at their new Experience Centre in Yennora, Sydney.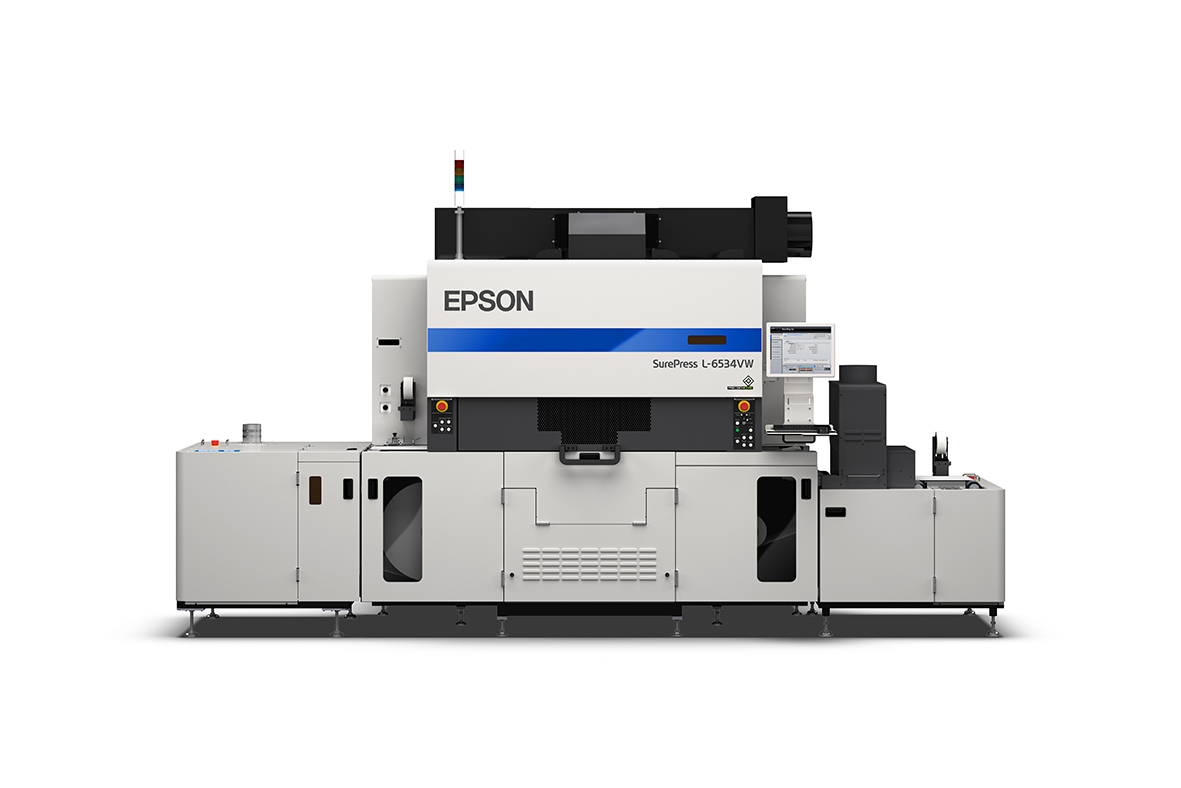 The new SurePress L-6534VW prints at speeds of up to 50 meters per minute for higher productivity with improved reliability and usability.

It also uses wide gamut CMYK inks with a high opacity white as standard and includes an innovative in-line digital varnish which delivers smooth gloss, matte and spot finishes.

The L-6534VW label press combines Epson PrecisionCore® printheads around a central impression drum in conjunction with a narrow platen gap, delivering precise droplet placement without web meandering or skewing. Its LED pining system also helps deliver finer tonal gradation and sharp images.

Epson's proprietary Nozzle Verification Technology (NVT) and automatic head maintenance efficiently help the L-6534VW label press print through each shift without operator intervention.

As the L-6534VW label press supports a wide range of label applications including food and beverage, the labels it produces are also weather resistant.

Standard features for the L-6534VW include corona treater, web cleaner, ioniser and additional UV curing kit for increased ink adhesion on difficult substrates, all of which combine to help the press provide the highest level of versatility in print production.

More detail on key features of the L-6534VW

PrecisionCore linehead
The PrecisionCore linehead is the key behind the high performance and reliability of the SurePress L-6534VW. Each of the six lineheads are comprised of PrecisionCore print chip modules (printheads), delivering precise quality with accuracy and high resolution. Smooth and natural gradation and colour tone,
from highlight to shadow, can be reproduced with 600 x 1200 dpi resolution using a minimum droplet of 3 picolitres and Variable Sized Droplet Technology.

High Productivity
Epson's PrecisionCore linehead, highly accurate web feeding technology and Epson-developed UV ink enable high-speed printing up to 50 m/min with high reliability and reduced down time. The L-6534VW saves you time on every job with its many automated and efficient productivity features.

All LED UV Colour Pinning Control
Epson's own LED UV pinning system semi-cures and stabilises, controlling ink spread for finer tonal gradation, sharp images and vivid colour. UV light is applied immediately after each colour is printed. This allows perfectly round drops to be placed in their correct positions.

Centre Drum Web Handling
The Drum Platen is a highly accurate web feeding technology which prevents
meandering and skewing of the web. The gap between the printhead and substrate is kept to a minimum, which enables accurate ink placement, for crisp text and fine lines.

Meandering and skewing of the web does not occur, because the substrate is held tightly around the drum. In comparison, the camber type platen of other presses requires manual adjustments when the substrate is changed, in cases such as Y-direction skew adjustment and colour adjustment (substantial waste of substrate). The SurePress registration adjustment is electronic.

The substrate is "fixed" to the drum, as it passes all printhead colours, hence it provides excellent colour-to-colour registration.

Nozzle Verification Technology and Auto Head Maintenance Function
Nozzle verification technology is an automatic nozzle check system with advanced ink droplet detection technology. A drive signal is sent to the piezo actuator. The same piezo element is used as a sensor to measure the pattern of the residual vibration. The residual vibration is analysed in milliseconds, reporting the nozzle status. All nozzles are checked after cleaning and before printing. A manually printed nozzle check pattern is not required to check if a nozzle is firing.

Auto head maintenance cleans the nozzles automatically to eliminate manual cleaning during each shift. It is fully automatic with no operator intervention required. Wash fluid is sprayed on the head surface and then the head is cleaned
automatically with the cleaning wiper. The auto self-head maintenance function cleans heads periodically to avoid nozzle clogging based on print duty cycle and results of the nozzle verification test. After maintenance, the press returns to printing again with no operator interaction or interruption in job sequence.

SurePress Customer Support Service by Remote Monitoring System
The operational status of the SurePress is monitored using a remote monitoring server. The L-6534VW has an extensive network of sensors which feed into a diagnostic system. This allows, at any time, a quick response and predictive
analysis, all done in advance of a repair visit.

Inline Digital Varnish
The L-6534 has the Epson innovative digital varnish ink. A gloss or matte finish can be printed selectively as a varnish. High value and very appealing accents can be added to lift the visual appearance of specific areas. The different finishes are achieved by changing the way the digital varnish is jetted from the printhead. Brand owners now have digital flexibility with spot varnishes. Digital varnish delivers smooth and even gloss, matte and spot finishes. The auto gloss varnish control function enables the appropriate amount of digital varnish to be applied to select areas according to the amount of WCMYK ink. This achieves a smooth, even and glossy finish.

High-Opacity White Ink
The single-pass high-opacity white ink provides high-density performance equivalent to screen printing and the ideal base layer for printing vivid colour on clear or metalised substrates. The bright white ink also gives the ability to print opaque, fine text and lines, even when printing clear labels for clear packaging. It offers the flexibility to print white on top of colours.

Clear film can be printed with colour ink first, followed by white ink using a printing method that allows you to view the results from the back of the film (reverse printing).

Reverse Print
L-6534VW has a function to rewind the substrate. To print white over colour (reverse print) on clear film, you can rewind and print without replacing (returning rewind to unwind manually) the roll. Waste of substrate is reduced by resuming printing after proofing by simply rewinding and resuming printing.

Epson SurePress Inks: Food Contact Materials (FCM) Compliance
Epson label inks reach major milestones in Food Contact Materials compliance. Epson inks used in SurePress inkjet label presses are compliant with EU Regulation framework (FCM EC No. 1935/2004), Good Manufacturing Practices Regulation (GMP EC No. 2023/2006), Plastics Implementation Measure Regulation (PIM EU 10/2011) and included in Swiss Ordinance (SR 817.023.21) on Food Contact Materials for food packaging printing inks.

Wide Gamut
A high concentration of pigment particles and UV pinning, which prevents ink drops from spreading or deforming, enables wide gamut and vivid colours. Wide gamut enables the reproduction of a wide range of desired colours that brand owners require. The gamut volume of L6534VW is larger than printing standards of offset coated paper like FOGRA, GRACoL and Japancolor.

You can get a demonstration of the new SurePress L-6534VW industrial UV digital label press at Epson's Experience Centre in Yennora by contacting Epson Australia here.