Epson launches new Minilab for photographers, photo print providers and photo merchandise manufacturers
SureLab D1060 offers fast, high-quality photo printing with flexible production and a reduced total cost of ownership

As demand for small-format photos continues to grow, businesses are looking for a cost-effective way to deliver quality prints quickly and cost effectively. To meet that need, Epson has launched the SureLab® D1060. This new DryLab printer has been built to address a range of customers from wedding and event photography, to retail in-store ad-hoc printing, to back-office print houses.

It offers a more compact footprint with reduced noise, lower heat output, as well as a range of new features to suit retail and in-house photo production. It also has a faster print speed and a super-fast one-off print mode for event applications.

A new ink system is combined with more flexible networking and an extended print life for those involved with on-demand and back-office print production. Complementing all of this is a new duplex unit that enables automatic double-sided borderless printing for photobook and photo merchandise production. 1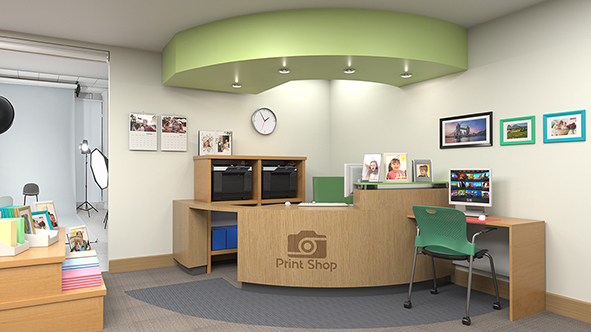 "High-quality, small-format photo printing is more popular than ever. Whether you have a high-end digital camera or the latest smartphone with megapixel imaging capability, there is nothing visceral quite like a tangible printed photo of a treasured moment. People want to put photos in their family albums, on the desk and up on the wall. Moments in time are fleeting and special. There is nothing like having a memento there in front of you as a reminder of what's truly important," said Gordon Kerr, Business Marketing Manager, Large Format, Epson Australia, "Epson has always produced great photo printers. The SureLab D1060 is a leap forward in terms of flexibility, productivity and durability. Never before has it been easier or more cost-effective to produce quality photo prints."

The new SureLab D1060 delivers print speeds of up to 460 6"x4" photos per hour.1 It is up to 10 percent faster than the previous generation, and the new 15 second one-off print mode is set to be a boon for photo studios and event work.2

Leveraging an enhanced 6-channel MicroPiezo® printhead and vivid UltraChrome® D6r-S dye-based ink technology, the printer can accurately reproduce subtle tones in portrait photos with smooth transitions and crisp, sharp details. When coupled with compatible Epson genuine photo media, prints are water, smudge and fade resistant.3




For improved productivity, the SureLab D1060 features a high-capacity ink system that uses 250ml bags that are cost-effective to purchase, compact to store, and crushable for reduced waste.

For single-sided printing, the machine uses large 65m roll-based media that is available in widths from 3.5"-210mm (A4) in a range of media weights and finishes.

The optional duplex tray uses double-sided sheet media, that is available in sizes from A5, up to 210x210mm. Operation is made simple and flexible care of an integrated control panel and bundled Epson OrderController Lite software.4 Flexible USB, Ethernet and Wi-Fi interfacing makes connectivity easier while the reduced footprint and heat output makes the machine perfect for kiosk-based operations.5

One of the key design features of the SL-D1060 is its reduced Total Cost of Ownership. Not only has it been designed to offer worry-free operation with minimum maintenance, but it features double the print life of its predecessor.1 It comes with a comprehensive 'heads-and-all' on-site warranty that can be extended with CoverPlus for up to five years.

In Australia the printer will be offered in two configurations: base unit only, or base unit plus duplex. The duplex unit will also be available as an option for those who wish to purchase it later.

Additional features include:


New Ink System – UltraChrome D6r-S ink in high-capacity 250ml packs deliver better prints with finer gradation and a wider colour gamut, while reducing cost and waste.
Flexible Operation – Integrated output tray and waste bin. Integrated LCD panel for direct control, as well as an upgraded driver for desktop management (Windows & Mac OS compatible). Supports Epson's new Cloud Solution PORT service for remote monitoring and analysis. This allows access from a web-based interface in the office, from home, and from a mobile device when on the move.
Reduced Cost – Supplied complete with an ink set, sample media and a copy of Order Controller Lite. Features a 400,000 print life and backed with a comprehensive on-site warranty, with a CoverPlus solution for coverage up to 5 years.
Flexible Integration – Reduced 80W power consumption, and only 1.2W when in sleep. Connect easily to printer over Wi-Fi®, Ethernet or USB using redesigned printer driver for Windows® and Mac®
Small Footprint – Compact Simplex size (466 x 374 x 340cm), Duplex size (466 x 438 x 423cm), with a reduced heat output to suit desktop and kiosk operation.
Versatile Output – Designed to use Epson media that is available in a wide range of roll and single/double-sided sheet configurations, with gloss or luster finishes. Supports production of prints with a border and borderless. Panoramic prints can be produced up to 1000mm long on single-sided roll media. 5
Built for Reliable Operation – Requires minimum maintenance and features new ink-less nozzle detection and alignment technology.
Pricing and Availability
The SureLab D1060 is expected to be available from November 2021 in Australia. A base printer with 5 year CoverPlus is expected to cost $6,995 (RRP ex GST), while the version with the duplex unit is expected to cost $7,995 (RRP ex GST). The duplex unit will also be available separately for $995 ex GST.
1 When compared to the Epson SureLab D860
2 Product specifications are subject to change without notice. Customers are recommended to view the relevant Epson product page for latest details. Total throughput time for any print depends on various factors including workstation configuration, file size, print resolution, ink coverage and networking. Actual print speeds will vary.
3 Epson does not provide any guarantee or warranty on print durability
4 This printer ships with the 'Lite' version of Order Controller. The full version can be ordered separately at additional expense.
5 This printer is designed for use with nominated Epson genuine ink and media consumables only. Use of alternatives is likely to result in print quality and reliability issues that invalidate warranty and CoverPlus.